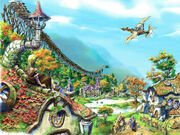 Anfog village is a village that appears in
Grandia III
, it serves as a home place for the main protagonist
Yuki
.
Yuki was born here, and also the place for Yuki and his best friends Rotts built aircraft to fulfill their dreams. Yuki was supposed to become a potter here as his mother, Miranda wished for, but Yuki still won't give up his dream and continued to built aircraft with Rotts here as much as possible.
Places in the village
Edit
Garage - the place where Yuki and Rotts built their aircraft, it's located around the hill of Anfog village
Rotts's house - as the name suggest, it's the place where Rotts live, it's located near the Garage, at the very end of the hill in Anfog, it is seen that Rotts's house possesed a telescope
Miranda's house - Yuki and his mother's house, they lived here, it's seen that inside of his house, they growed medicinal herbs here, and Yuki's room is on the upstair connected by a ladder, while Miranda's room is located in the first floor, the house also had kitchen
Ad blocker interference detected!
Wikia is a free-to-use site that makes money from advertising. We have a modified experience for viewers using ad blockers

Wikia is not accessible if you've made further modifications. Remove the custom ad blocker rule(s) and the page will load as expected.