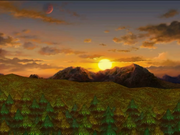 The Black Forest is a large coniferous forest between Carbo Village and the Garmia Tower. It is a dangerous place for those untrained in combat.
Ryudo crosses the Black Forest with Elena while guiding her to Garmia Tower. At first he is making fun of her, but he protects her dutifully when she is attacked by Dodos.
Enemy encounters
Edit
Ad blocker interference detected!
Wikia is a free-to-use site that makes money from advertising. We have a modified experience for viewers using ad blockers

Wikia is not accessible if you've made further modifications. Remove the custom ad blocker rule(s) and the page will load as expected.