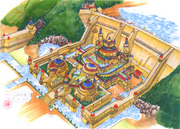 Cyrum is a large, cheerful, colourful kingdom built on the coast. There are many channels of water running throughout the city and there is also a large dock. The kingdom in centred around Cyrum Castle which holds dark secrets from the past of the people of Cyrum.
The residents of the kingdom of Cyrum once called themselves the People of Darkness - they served Valmar in his fight against Lord Granas. However, the people renounced their commitment to darkness after Valmar was sealed away in parts. They have lived in shame of their past ever since.
Locations
Edit
General Store - a place to buy items.
Inn - a place to stay the night.
Port - a place to dock the ships that are coming in to Cyrum.
Roan is the prince of Cyrum and when he returns and defeats the Claw of Valmar he takes his father's place as king of Cyrum. Roan remains in Cyrum afterwards to care for his people while the rest of the party sets off for Garlan with the new party member: Tio.
Ad blocker interference detected!
Wikia is a free-to-use site that makes money from advertising. We have a modified experience for viewers using ad blockers

Wikia is not accessible if you've made further modifications. Remove the custom ad blocker rule(s) and the page will load as expected.