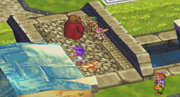 Set ten years after the defeat of Gaia, the epilogue of Grandia is set in the town of Parm and follows the adult Sue as she goes to meet Justin and Feena at the Port.
Sue and Puffy set off from the Seagull Restaurant, where they leave Justin's mother Lilly, who is too busy cooking to go with them. Sue walks through the modern Parm, observing the changes that have occurred over the last decade.
She passes two children being told off by a Laine Elder for misbehaving. One of the two children is a Mogay, while the other is human. They remark that they are training to be adventurers and not misbehaving.
Sue carries on to the port, where the steamer is docked and she walks up to the jetty. She is surprised as a group of children run over to her. They are very intrigued by Puffy. Sue realises they must be Justin & Feena's children. The epilogue ends as Sue sees their parents and the camera zooms out to show a much larger Parm covering the Messina continent.
Changes to the world
Edit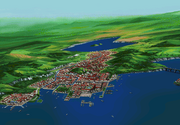 The story of Justin the adventurer is known worldwide
The Old World is now multicultural, with many different humanoids from the Misty Forest and the Lost World
Grass and trees are now present all around Parm
Market stalls (similar to those in New Parm) at the Port of Parm
Parm now encompasses more of the Messina continent
Ad blocker interference detected!
Wikia is a free-to-use site that makes money from advertising. We have a modified experience for viewers using ad blockers

Wikia is not accessible if you've made further modifications. Remove the custom ad blocker rule(s) and the page will load as expected.