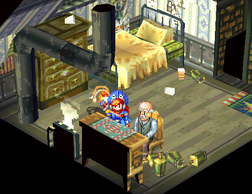 "Dear Clara, Mom and Dad have gone to a party again today. So me and my kitty Chummy are house-sitting on the rose-scented balcony."
―"Francois" in his letter
Francois is the pseudonym for a character from Grandia. "Francois" is an old man living in Parm on the Messina continent and often writes letters to an 18 year old girl from New Parm named Clara.
"Francois" explains to Justin and Sue that Clara is a beautiful girl that his son got to know while he was living in New Parm and asks Justin to deliver a letter to Clara but asks him not to reveal his true identity.
Ad blocker interference detected!
Wikia is a free-to-use site that makes money from advertising. We have a modified experience for viewers using ad blockers

Wikia is not accessible if you've made further modifications. Remove the custom ad blocker rule(s) and the page will load as expected.