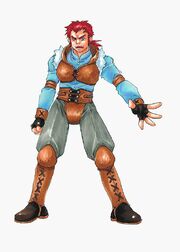 A childhood friend of Ryudo's from Garlan. As hostile to him upon returning to their home as the other villagers, he still feels that things would have been different had Ryudo stayed and helped him defeat Melfice.
At the game's ending, he is seen with a couple of the village boys practicing sword fighting. He also wonders where Ryudo has gone, as does Millenia, Roan, Tio, and Roan.
Ad blocker interference detected!
Wikia is a free-to-use site that makes money from advertising. We have a modified experience for viewers using ad blockers

Wikia is not accessible if you've made further modifications. Remove the custom ad blocker rule(s) and the page will load as expected.