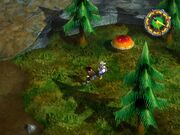 The Inor Mountains are located in the northern part of the
Silesia
continent in
Grandia II
. A path winds through the mountains, connecting
Carbo Village
and
Agear Town
.
The lower mountains are vegetated with green meadows, conifers and gigantic, red mushrooms, which make perfect hiding places for both enemies and treasures. The steeper slopes lack vegetation, yet they are home to Dodos and other creatures.
The Inor Mountains are Ryudo and Elena's first step on their journey to St. Heim Papal State. While camping halfway Ryudo discovers his compassion for the frail but yet determined songstress, while Elena recognises that Ryudo isn't as cold-blooded as his harsh words suggest.
Ad blocker interference detected!
Wikia is a free-to-use site that makes money from advertising. We have a modified experience for viewers using ad blockers

Wikia is not accessible if you've made further modifications. Remove the custom ad blocker rule(s) and the page will load as expected.