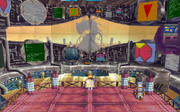 The most significant Garlyle Forces base in Eastern Elencia. Its primary use is to launch military vehicles from for local assault. The Base is located around an ancient Icarian City, which is to aid General Baal's plans to resurrect Gaia from the core of the city.
Ad blocker interference detected!
Wikia is a free-to-use site that makes money from advertising. We have a modified experience for viewers using ad blockers

Wikia is not accessible if you've made further modifications. Remove the custom ad blocker rule(s) and the page will load as expected.