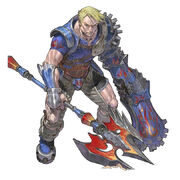 Kornell is a tough assassin hired by Emelious and Grau. He is partnered with Violetta. Kornell wields a large heavy axe and armored iron fist but is rather slow compared to the agile Violetta in both stamina and intelligence.
The party faces Kornell twice during the course of the game, once paired with Violetta.
Not much is known about Kornell, only the fact that he works for Emelious.
Kornell is the first boss to face in the game that the party takes on while he has Henchman Grunts as backup in the fight.
In the second re-match battle he is once paired with Violetta but with no Henchman Grunts this time.
Ad blocker interference detected!
Wikia is a free-to-use site that makes money from advertising. We have a modified experience for viewers using ad blockers

Wikia is not accessible if you've made further modifications. Remove the custom ad blocker rule(s) and the page will load as expected.