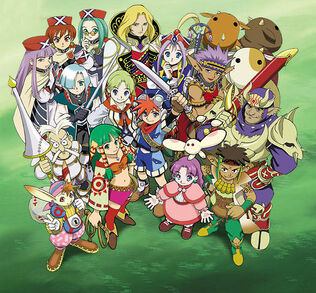 The following is a list of characters from Grandia.
Player Characters
Edit
Guest Characters
Edit
Antagonists
Edit
Other Characters
Edit
Historic Characters
Edit
Blink Wayne - A legendarily fast swordsman
Captain Griffin - Former pirate
Dight - Dragon slain by Gadwin
Gaddy-Gad - Gadwin's Grandfather
Pirate Robinson
Pirate Warren
Young Platz - Famous for taking on a pirate captain at the age of 13
Religious Characters
Edit
Frog God - Worshiped in Gumbo Village
Frog Goddess Simone - Worshiped in Gumbo Village
Minor Characters
Edit
AWOL Joe
Bertie
Farrah
George
Greg
Irin
Lightning Rick
Marie
Marie's Mom
Miss Kirlian
Mr. Dolan
Mr. Painter Man
Mr. Ren
Pippi
Rocko
Rocko's Mom
Theo
Pillarino's Father
Pillarino's Mother
Wandering Gambler
Chief of the New Parm Guard
Feena's Auntie
Miss Candy
Miss Milk
Mr. Tite
New Parm Priest
Luc Prayer Leader
Rem's Mom
Rem's Father
Datt
Datt's Mom
Tilt
Tilt's Father
Bobby
Frog Priest
Frog Sorceress
Gongo
Honey
Leana
Linick
Lulu
Master Frog
Murua
Pulpa
Shirumi
Taylor
Tom-Tom
Toto
Yuiyui
Hakka
Joel
Meesha
Nagi
Rapp's Father
Rapp's Mother
Graham
Keer
Ms Artist
Ren
Rusty
Shelly
Shia
Zil Padon News Reporter
Denly
Lerdin
Linden
Yadrach
Eloise The Silver-Haired Adventurer - Wrote the Travels of Eloise book
Heloise Ocave - Painted "Girl lingering by the sea"
Ad blocker interference detected!
Wikia is a free-to-use site that makes money from advertising. We have a modified experience for viewers using ad blockers

Wikia is not accessible if you've made further modifications. Remove the custom ad blocker rule(s) and the page will load as expected.