Nautica Plains is a grassy region adjacent to the Baccularn Desert. Water from these plains flows through the ground into the desert and creates the Oasis at the Baccula Settlement.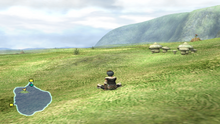 The party travels through Nautica Plains after escaping from the Verse Realm.
Ad blocker interference detected!
Wikia is a free-to-use site that makes money from advertising. We have a modified experience for viewers using ad blockers

Wikia is not accessible if you've made further modifications. Remove the custom ad blocker rule(s) and the page will load as expected.