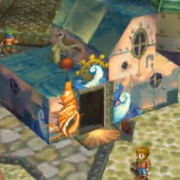 A popular local restaurant in Parm, owned by Justin's mother, Lilly. The Seagull Restaurant competes mostly with The Blue Marlin restaurant nearby but there is no hostility. Justin and Lilly live above the restaurant.
The restaurant is popular with the dock-workers in Parm, with the restaurant decorated with many nautical objects. Even the seats and tables are constructed from barrels and planks of wood. The restaurant is also popular with many other residents and visitors such as members of the Garlyle Forces.
The restaurant and flat above are not seen in their entirety during the game but it is implied that Lilly has a bedroom as well.
Ad blocker interference detected!
Wikia is a free-to-use site that makes money from advertising. We have a modified experience for viewers using ad blockers

Wikia is not accessible if you've made further modifications. Remove the custom ad blocker rule(s) and the page will load as expected.