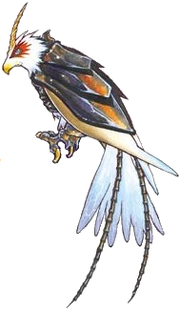 "Oh, stop your whining. This is part of the job"
―Skye
Skye is Ryudo's wise and reliable partner. He met up with Ryudo two years prior to the beginning of this story and doubles as his confidant. Ryudo's indifference brings out Skye's paternal side.
When the party reaches Garlan, Skye reminisces on Ryudo's past, and anonymously tells Elena the story.
In early designs of Ryudo, Skye was nothing more than a normal-looking falcon. Later design concepts included a masked bird and even a more humanoid appearance.
In Cyrum, he is called a parrot by the informant during the festival. During the arm wrestling mini game, the informant wanted Skye if he won.
Ad blocker interference detected!
Wikia is a free-to-use site that makes money from advertising. We have a modified experience for viewers using ad blockers

Wikia is not accessible if you've made further modifications. Remove the custom ad blocker rule(s) and the page will load as expected.