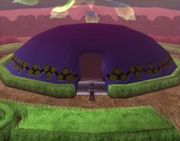 The Venom Ruins are found deep underground underneath the ancient seal near Locca. The ruins are accessible once travelling down ten levels through the Starry Corridor to the Illusory Meadow.
Once Kroitz opens the seal, Evann and party follow him down there and beat him to the ruin's Spiritual Atrium after Kroitz and Specto fail to open the door in Red Quartz Park. However, upon removing the slab, Kriotz takes it from them and they are forced to flee through a Geo Gate.
Ad blocker interference detected!
Wikia is a free-to-use site that makes money from advertising. We have a modified experience for viewers using ad blockers

Wikia is not accessible if you've made further modifications. Remove the custom ad blocker rule(s) and the page will load as expected.