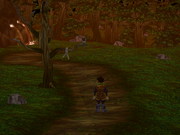 The Witt Forest Path is located in the northern part of the
Silesia
continent in
Grandia II
. This unpaved path leads to the small settlement of
Carbo Village
.
Travelling along Witt Forest Path Ryudo finds a note tied into the branches of a tree: The Church of Granas wants to hire him as a bodyguard. Although Ryudo is not too enthusiastic about working for the church, he continues travelling down the path to Carbo Village.
Enemy encounters
Edit
Ad blocker interference detected!
Wikia is a free-to-use site that makes money from advertising. We have a modified experience for viewers using ad blockers

Wikia is not accessible if you've made further modifications. Remove the custom ad blocker rule(s) and the page will load as expected.